septadrop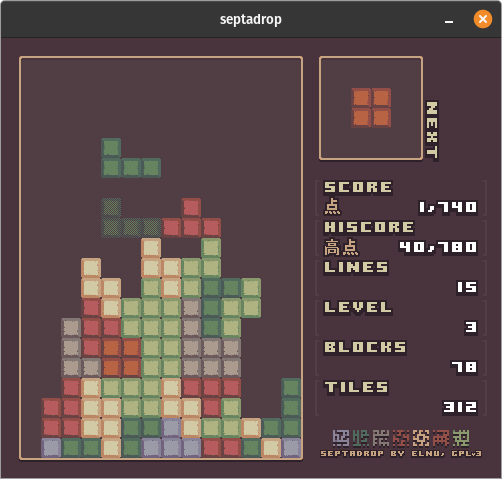 A block game made in Rust and SFML.
For packaging instructions, see the build folder.
Game
Controls
🠔/🠖 arrow keys: horizontal movement
🠕 arrow key: rotate
🠗 arrow key: fast forward
Space: hard drop
Esc: pause (will also automatically pause on lost focus)
Shortcuts
Ctrl+1, Ctrl+0: 100% scale (default)
Ctrl+2: 200% scale
Ctrl+4: 400% scale
Ctrl+-: Zoom out
Ctrl++: Zoom in
Ctrl+Q: Quit
Scoring and mechanics
You receive 40 points for a 1-clear, 100 points for a 2-clear, 300 points for a 3-clear, and 1200 points for a 4-clear, multiplied by your level plus one. Your level increases by one for every five lines cleared. If you would like to configure these values, change them in the config file and rebuild.
The next dropped block is picked purely randomly, there is no semi-random queue system. As a result of this, runs are heavily influenced by RNG. A queue system may be added in the future, but no promises.
Acknowledgements